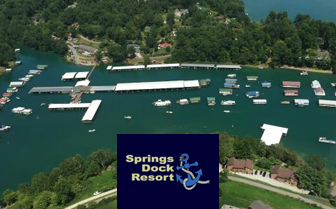 Springs Dock Resort
www.springsdock.com
423-562-2405
Boat Rentals: Springs Dock is close to Deerfield Resort and offer pontoons, ski boats, fishing boats or wave runners for rent: 5 minutes driving / 2 minutes by boat.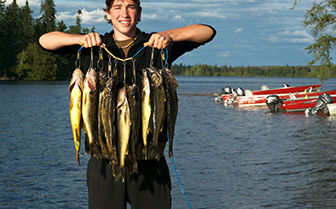 Golf Course
www.greensatdeerfield.com
423-566-0040
The Greens at Deerfield offers a beautiful 6800-yard championship course designed by Bobby Clampett. The course also features a driving range and practice greens. The Golf Shop offers a full service pro shop with a wide array of clubs, accessories and apparel. Golf lessons are available with Golf Pro Mark Brown.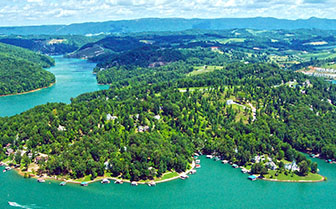 Deerfield's Recreational Amenities
Swimming Pool: Open Memorial Day Weekend – Labor Day Weekend. 9AM-9PM Daily. There is no lifeguard on duty. An adult must accompany children under 12.
Tennis Courts: Open all year – Daylight-Dark It is not necessary to reserve court time. Rental racquets and balls are available at the Deerfield office.
Sand Volleyball: Open all year – Daylight-Dark Volleyball available at Deerfield office.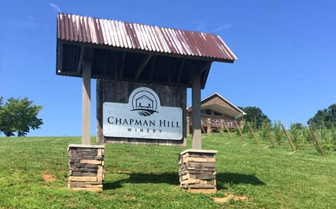 Chapman Hill Winery
www.chapmanhillwinery.com
423-352-6311
450 S. Chapman Road
LaFollette, TN 37766
A quaint little winery with an elegant tasting room nestled in the hills of East Tennessee on the edge of Norris Lake. Varietals range from European to American, Dry to Sweet and Red to White – so we're sure to have something you'll enjoy.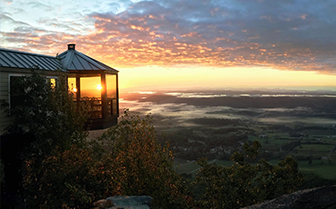 McCloud Mountain Trails & Restaurant
www.mtcloud.com
423-562-3282
1220 McClouds Trail
Duff, TN  37729
This is one of the most beautiful mountain views in the area. The Developer of Deerfield Resort is also the developer of McCloud Mountain.
Hiking & Horseback Riding
Hiking:
Devil's Racetrack Overlook
Cumberland Trail State Park
Guided Tours
The Cumberland Gap National Historic Park (nps.gov/cuga) offers two types of tours that will make your visit to this natural wonder unforgettable. Gap Cave Tours last for about two hours and cover 1.5 miles of underground cave systems in the park. These tours will take you through four descending levels of caves. If you prefer something less claustrophobic, Hensley Settlement Tours will take you back in time to the early to mid-20th century. Visitors will see the schoolhouse, springhouse, and blacksmith shop of this historic settlement during the four-hour tour. The Hensley Settlement was established in 1904 and occupied until 1951. Tours meet at the Cumberland Gap Visitor Center and take a shuttle to the settlement.
Norris Dam State Park:
Horseback Riding – www.riverridgefarmtn.com
ATV Trails / Rentals / Guided Tours
Royal Blue Wildlife Management Area
If you're an all-terrain vehicle enthusiast, then you've found your ultimate destination!
Enjoy majestic mountainside beauty and an exciting ride at the Ride Royal Blue ATV Resort and Campground, offering miles of versatile trails and accommodations in the Cumberland Mountains of Campbell County, Tennessee.
We feature countless trails suited for all skill levels. Our trails range from leisurely treks perfect for families to challenging obstacles and creeks for thrill-seekers.
Don't let our name fool you! Not only do we cater to ATVs, but also to trail bikes, mountains bikes, horses, 4-wheel-drive trucks, trail buggies and jeeps.
ATV trails located in the Royal Blue Wildlife Management Area begin in the town of Pioneer, only 20 minutes away from Jacksboro. This state-owned area has 430 miles of trails for riders of all skill levels and features both flat and mountainous terrain. Camping sites are located throughout the area.
Royal Blue Wildlife Management Area
609 Titus Hollow Road
Pioneer, TN 37847
423-566-8557
state.tn.us/twra/
Brimstone Recreation
Brimstone trails are located in Huntsville, which is a 40-minute drive from Jacksboro. It has over 70 trails covering over 300 miles and 19,000 acres. Come for a day of fun or an entire vacation. Brimstone Recreation also offers numerous types of accommodations   for guests on or near the property, from campgrounds and cabins to houses and hotels. According to brimstonerecreation.com, Brimstone clearly marks its trails as easy, moderate, and difficult for riders of various experience levels. These trails are open all day, 365 days a year.
Brimstone Recreation
2860 Baker Highway
Huntsville, TN 37756
423-663-4868
brimstonerecreation.com
Coal Creek Off Highway Vehicle Area
Coal Creek trails begin in Oliver Springs, which is 45 minutes from Jacksboro. Trails are in numerous types of terrain such as paved, gravel, clay, and mountainous. Located on 72,000 acres, there are over 160 miles of trails of various difficulties: easy, moderate, and difficult, though most are of moderate difficulty. Different trails allow different types of vehicles to ride on them; some are even solely dedicated to ATVs and motorcycles. According to coalcreekohv.com, Coal Creek requires every rider to purchase a permit, which can be purchased daily for $17 or yearly for $88.
Coal Creek OHVA
555 Windrock Park Lane
Oliver Springs, TN 37840
865-435-1251
coalcreekohv.com
Read more at Trails.com: Jacksboro, Tennessee ATV Trails | Trails.com http://www.trails.com/list_33733_jacksboro-tennessee-atv-trails.html#ixzz1brBLkjEZ
Knoxville Sports
University of Tennessee – About 45 minutes from the stadium
Pigeon Forge / Gatlinburg Attractions
PIGEON FORGE / GATLINBURG ATTRACTIONS – Only an hour or so drive
Note: The business hours of area attractions tend to vary in the winter months. Be sure to call ahead before visiting.
PIGEON FORGE ATTRACTIONS
Biplane Acrobatic & Site Seeing Tours – Stearman PT 17 World War II Biplane with 450 horsepower radial engine, makes for a ride of a lifetime.
865-483-6782
Adventure Golf -Play mini golf amid rushing waterfalls and an old burning pirate ship. Open Mar-Nov. and some weekends in Nov.
865-453-9233
Adventure Raceway – Ride the only computerized go
carts in town. Great fun for all ages.
865-428-2971
Bunny Land Mini Golf – Play mini golf with live bunnies, two 18 hole courses.
Look for the giant hillbilly
865-453-0306
Open April – October
Carbo's Police Museum – Featuring "Walking Tall" Sheriff Buford Pusser, including the
1974 Corvette in which he was killed.
Also exhibiting police items from the US and Canada.
865-453-1358
Open April- October
Castle Park Fun Center – Features two 18-hole miniature golf courses with waterfalls,
fountains, old mill, western scene, castle, mansion, and miniature
houses on a waterfront, arcade. Race our fast cars on our big track.
865-429-4653
Open year round weather permitting
Dollywood – Thrilling rides, Master craftsmen, spectacular shows,
special events and attractions and a showcase of stars
865-428-9488
Closed Jan & Feb
Elvis Museum – World's largest private collection of Elvis's memorabilia.
Self guided tours. See the king's cars, jewelry,
clothing and guns.
865-428-2001
Open year round
Fast Tracks – CAN-AM racing, bumper boats, skid racers, bungee jumping,
mini golf, junior racers, kiddie rides and arcade.
865-428-1988
Open year round
Flyaway – Achieve the dream of flight at one of the nations only
indoor skydiving simulators
865-453-7777
The Fun Connection – Enjoy 2 go-cart tracks, 1 slick track, mini golf,
haunted house and arcade, antique photo area and concessions.
865-428-4999 / 865-453-4337
Open April – November and some weekends in winter, weather permitting
Glasgow Comedy Dinner & Show – A comedy & music show with every meal,
breakfast, lunch and dinner. Great food with an exciting family variety show.
Reservations and show times
865-908-0003
Open year round
Kid's Country – A fantasy land play area for children ages 3-12.
Convenient free parking
865-453-4777 / 865-428-2675
Off season or winter hours may vary
Lost Treasure Golf – One of the largest miniature golf courses
in Pigeon Forge. Ride a train to two 18 hole miniature golf courses. Putt through waterfalls,
airplanes, tunnels and pyramids.
865-453-0307
Open year round-weather permitting
The Mine – Mine for rubies, Sapphires and many other gems.
Watch stones being cut and gold jewelry being cast and made.
865-453-7712
Open year round
Memories Theater – A Salute to Elvis
Show Dates, Reservations & Information
865-428-3078
Closed Jan. open on Friday and Saturdays only in Feb.
Movie Ryder – Motion theater, digital surround sound and giant screen projection
thrust you into the action of specially produced high-tech films
."Super Speedway: The Ride" puts you in the driver's seat of Indy car racing.
865-428-8511
Open year round
NASCAR SpeedPark – It' life in the fast lane! Match your lap times with NASCAR's elite!
This is the place for authentic NASCAR SpeedPark merchandise,
and 26 acres of non-stop NASCAR fun!
865-908-5500
Open year round
Ogle's Water Park- 10 exciting water slides, Large children's play area.
865-453-8741
Open weekends in May: June – Labor Day
Parkway Slick Track – Gasoline powered CAN-AM racing cars and arcade.
865-428-7750
Open year round, rain or shine in covered racing area
Parkway Speedway – Sharp curves, mountain turns. Some of the fastest cars in town.
865-428-0555
Open March-December
Pigeon Forge Super Speedway – Intermediate and beginner tracks with curves and dips. Kiddie rides.
865-429-4639
Open Mar.- Nov. & winter weekends
Race World – The largest Winston Cup souvenir outlet in the U.S.
plus 80,000 feet, fully enclosed, climate controlled,
race fans playground, with super tracks, R/C track,
kids world and arcade. Winston Cup Drivers appearing monthly.
865-429-2030
Open year round
Rafting in the Smokies – Family adventure – no experience necessary.
White water rafting is fun for the whole family.
Reservation recommended
800-776-7238
Rebel Yell Raceway – Go carts, junior track, bumper boats,
18-hole "Jurassic" golf and arcade.
865-453-9461
Open Mar.- Nov. & some weekends in winter, weather permitting
Rockin Raceway – Grand Prix track, pro track, SR2 Simulator, arcade, pool tables and air hockey.
865-428-3392
Open year round
Scenic Helicopter Rides
865-453-6342
Sky Scraper -Thrilling ride high above the Parkway. Exciting new attraction.
865-429-8600
Open year round, weather permitting
Smoky Bear Golf – Golf with the bears and other wild animals. Located in the center of town.
865-428-0216
Open year round, weather permitting.
Smoky Mountain Car museum – Museum features Hank Williams, Jr. Silver Dollar Car,
James Bond's 007 car used in the movie "Goldfinger" & "Thunderball". See many more
865-453-3433
Open Apr – Oct.
Smoky Mountain River Run – Spend fun filled hours floating down a mountain river.
865-428-4403
Open May- Sept., weather permitting
Smoky Mountain Slick Track – Swerve and curve on our go- cart "slick" track
and Kiddie track.
865-428-4955
Open year round, weather permitting.
The Sprint Track – Pigeon Forge's only sprint car track.
865-908-7255
Star Tracks – complete inside recreation center.
Enjoy rain or shine the slick track, pro-am track
kiddie track and arcade.
865-429-5580
Open year round
The Track & Super Track – Bungee jumping, bumper cars, go-carts and
twin engine racing, miniature golf, Tee-ball and more.
865-453-4777 / 865-428-2675
Open year round, weather permitting
Tree House Golf and Games – two 18- hole miniature golf courses, video arcade,
snack bar, air brush artist on site.
865-429-8008
Open year round, weather permitting
Ultra Zone – Laser adventure for the whole family. Three team s battle it out in
indoor arena as you score points and destroy enemy base stations.
Awesome special effects
865-428-2444
Open Year round
Walden's Creek Riding Stables – Guided & Unguided Horse Trails
Reservations & Information
865-429-0411
Open year round
Wild Wheels & Water Bugs – CAN- AM racing, figure 8 course,
bumper boats, bungee jumping, arcade,
plus a kiddie park and more.
865-453-0115
Open May- Oct. & weekends in winter, weather permitting.
Wildwater Rafting – Guided and rental trips for the entire family.
No experience necessary on any of the trips. 27 years experience.
Ages 6 and up welcome "Senior Friendly"
float trips and shuttle service from Pigeon Forge.
800-451-9972
Open Mar.- Oct.
Pigeon Forge Music & Entertainment
Most theaters required advance reservation, please be sure to call ahead for schedule and reservations.
For additional information on Pigeon Forge events and attractions contact the Pigeon Forge Department of Tourism
P.O. Box 1390 – I
Pigeon Forge, TN 37868
800-251-9100
865-453-8574
Comedy Barn Theater – This show is suitable for the entire family and is packed with Fun, Laughter, music and magic.
865-5222 / 1-800-295-2844
Open Year round
Country Tonite Theater – Country Tonite has been awarded the " Best Live Country Show in America" by the Country Music Associations of America for three consecutive years.
865-453-2003 / 1-800-792-4308
Closed Jan.& Feb.
Dixie Stampede – Feast on a four-course meal while witnessing a spectacular 32- horse show
themed in a friendly North/South rivalry. (Dollywood Production)
865-453-4400
Open year round
Eddie's Heart and Soul Café – Music for your heart
and food for your soul. Award winning Eddie Anders entertains you while you dine in a unique atmosphere
865-453-0833
Elwood Smooch's Hillbilly Hoedown – Join Elwood Smooch, the #1 musical comedy clown, and his versatile family of singers and musicians, Enjoy a barn- burning Country "Comusical" celebration.
865-428-5600
Open Apr.- Dec.
Glasgow Comedy Theater– Fork over the funny bone to the Smoky's only comedy theater with
breakfast, lunch, and dinner shows.
(865-908-0003 / 888-968-5284
Closed Jan. & Feb.
Governor's Palace – Boots, Blues and Boogie Show
Tickets & Information
888-439-111 / 865-428-5888
Louise Mandrell Theater – Live Performances by Louise Mandrell
Tickets & Information
865-453-6263
Closed Feb.
Tennessee Music Theater – Music, Comedy, & Fun
Reservations
865-428-5600
Jan. & Feb.-open on Friday & Saturdays only
Memories Theater – "The ultimate salute to Elvis"
starring Lou Vuto with Charlie Hodge and the Memories Show Band.
50's & 60's, young country and comedy
865-428-7852
Closed Jan.
Music Mansion – New show schedule call for more information
Smoky Mountain Jubilee – Original Country Music Show
865-428-1836
Jan. & Feb.-open Friday and Saturdays only
Pigeon Forge Shopping
Note: Mall hours may change in January and February. Be sure to call for updated mall hours before visiting
Belz Factory Outlet World – 85 Outlets, Tennessee's Largest
865-453-3503
Open year round
Pigeon Forge Factory Outlet Mall – orange roof mall
865-428-2828
Open year round
Riverview Factory Stores/ River Vista Factory stores – Teaster Lane across from the Beltz Factory Outlet mall
865-429-2781
Open year round
Tanger Outlet Center – Just Off the Parkway at Traffic Light #3
865-428-7001
Open year round
Z Buda Outlet Mall – Behind Pigeon Forge Factory Outlet Mall
865-453-6519
Open year round
The Old Mill Village – Historical Grist Mill & Specialty Shops
865-453-5771
Open year round
Gatlinburg Attractions
Christus Gardens – Life-sized Dioramas from the Life of Christ
865-436-5155
Open year round
Earthquake – ride-indoor live action ride loaded with special effects
865-436-9765
Open daily 10 a.m.
Fun Mountain – Rides & Attractions for the Whole Family
865-436-4132
Winter schedule – Open Fri. Sat – Sun.
Gatlinburg Sky Lift – Chairlift with Panoramic View
865-436-4307
Open 9 a.m. daily, Nov – March, weather permitting
Great Smokies Mega Theatre – 7 story mega screen
865-430-9999
Open daily
Guinness World of Records Museum – Exhibits of Astounding Achievements
865-436-9100
Open 9 a.m. daily
Hillbilly Golf – Incline rail car to mountain topwith two-18-hole minature golf courses
filled with usual mountaineer hazards.
865-436-7470
McCarter's Riding Stables – travel scenic trails with native guides deep into the National Park.
Areas you wouldn't easily see on foot.
865-436-5354
Open early spring through late fall, 7 days a week
Mysterious Mansion – A Fun-filled Maze of Excitement & Terror
865-436-7007
May – Oct. open 10 a.m. daily , call for winter hours
Ober Gatlinburg – All Season Mountaintop Recreation, ski resort ,indoor ice skating &
Amusement Park America's Largest Aerial Tramway
865-436-5423
Open year round
Old Gatlinburg Golf & Games – Miniature Golf, Putt through the history
of Gatlinburg and the Smokies. Beautifully landscaped
865-430-4659
Open 10 a.m. daily
Q-ZAR Laser Tag– Serious fun with a laser gun, Arcade Games,
865-436-BEAM (2326)
Open 10 a.m. daily
The Race Track – indoor go cart track and miniture golf course
865-430-7223
Open 10 a.m. daily
Rafting in the Smokies – Jump into a raft and hit the rapids of some of the most beautiful
rivers in the eastern United States
865-436-5008
Ripley's Believe It or Not! Museum – Over 500 Exhibits on 3 Levels, completely handicap accessible
865-436-5096
Open 10 a.m. daily
Ripley's Moving Theater – Simulator Puts You in the Action
(423) 436-9763
Open 10 a.m. daily
Smoky Mountain Winery – Tour the oldest operating winery in East Tennessee and see where great flavor is born.
865-436-7551
Space Needle – Ride the Glass Elevator to Breathtaking Views
Traffic Light #8
865-436-4629
Open daily 10 a.m.
Star Cars Museum & Celebrity Golf – Over 30 Cars from TV, Movies, & Music Stars.
Also an 18 hole miniature indoor golf course
where you play through recreated movie and TV sets.
865-430-7900
Open daily 10 a.m.
Sweet Fanny Adams Theatre – Areas Oldest Professional Theater
865-436-4039 / 865-436-4038
Late April – Oct. open 7 days a week,
Nov. & Dec. open Fri. & Sat. only
Treasure Quest Golf – An ancient jungle temple is the backdrop to this adventure-packed
championship 18-hole golf course.
865-436-3972
Open daily 10 a.m.
Venture Motion Ride -Theater- Movie Ride Simulator
865-430-8985
Open 10 a.m. daily
Gatlinburg Sportsman's Club – 649 King Branch Rd.
Trap & Skeet Shooting; Sporting Clays
865-436-0271
Gatlinburg Trolley System – Leave your driving worries behind you.
25 cents per ride. The color coded trolleys make frequent stops
on regular routes in the area. The fun and inexpensive way to see Gatlinburg.
Ripley's Aquarium
Sevierville Attractions
Sevierville also has specialty shops & historical sites to visit.
Southern Nights Music Theater – Their entertainment includes
country, rock-n-roll, gospel, bluegrass and comedy.
For reservations and information
865-908-0600
Governors Palace – Boots, Boogie & Blues Show
and the $25,000 Game Show
For information and reservations
865-428-5888
Lee Greenwood Theater – Lee Greenwood Performing Live
865-933-8080
Deer Farm & Exotic Petting Zoo – 140 Acre Natural Habitat
865-428-DEER (3337)
Forbidden Caverns – Entertaining, Educational
Tour under English Mountain
865-423- 453-5972
Tanger Five Oaks – Brooks Brothers, Ralph Lauren, & More!
865-453-8401
Riverside Antiques & Collectors Mall – 35,000 Square Feet
of Antiques & Gifts
865-429-0100
Maplewood Farms – Tobacco, Bakery, Cider & Grist Mills
865-932-7637
Golf Pigeon Forge / Gatlinburg
River Islands Golf Club – Kodak 865-933-0100
Dandridge Golf Course – Dandridge 865-397-2655
Eagle's Landing Golf Club – Sevierville 865-429-4223
Bent Creek Golf Resort – Gatlinburg 865-436-3947
Gatlinburg Municipal Golf Course – Pigeon Forge 865-453-3912
Laurel Valley Golf Course – Townsend 865-448-6690
Fishing Pigeon Forge / Gatlinburg
Old Smoky Outfitters – Fly, Spin, & Lake Trips; Rod Rental; Fly & Tackle Shop
Gatlinburg – 865-430-1936
Rocky Top Outfitters – Fishing & Hunting Guides; Fly, Tackle, & Bait Shop
Pigeon Forge – 865-429-FISH (3474)