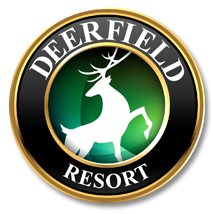 Deerfield Resort
Deerfield Resort is an exclusive and secluded area nestled between the Cumberland Mountains and the foothills of the Great Smoky Mountains.  It is approximately 35 miles south of the Kentucky/Tennessee border off I-75, exit 134 (11 miles from La Follette and 30 miles east of Knoxville.)
Where beautiful lakes are plentiful, Deerfield is situated on the most beautiful lake of all – Norris Lake.  It has over 800 miles of shoreline and a surface area of 34,000 acres.  The water is 200 feet deep and clean enough to drink!  Even on busy holidays, the lake is never crowded; it is a water-skier's and a fisherman's paradise.
Deerfield is located 4 1/2 hours from the Cincinnati/Dayton area; 8 hours from Detroit; and 10 hours from Toronto, making this an easily accessible drive for a great getaway!
Why East Tennessee?
Deerfield Resort is centrally located within 7 hours driving time of 70 percent of the U.S. population.
There are four distinct seasons – each with its own beauty.  Spring comes alive with dogwood blossoms… Summers are sunny, ideal for water sports and magnificent sunsets… Fall is an explosion of brilliant colors and harvest moons … and mild winters encourage relaxing in a hot jacuzzi or enjoying a roaring fire.
Deerfield's Recreational Amenities
Swimming Pool
Open Memorial Day Weekend – Labor Day Weekend.  9AM-9PM Daily. There is no lifeguard on duty.  An adult must accompany children under 12.
Tennis Courts
Open all year – Daylight-Dark. It is not necessary to reserve court time. Rental racquets and balls are available at the Deerfield office.
Sand Volleyball
Open all year – Daylight-Dark. Volleyball available at Deerfield office.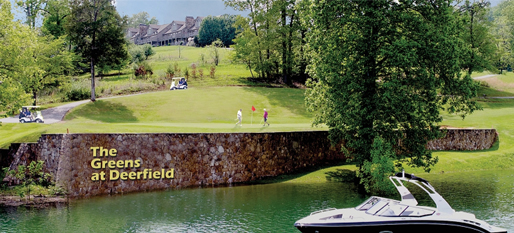 Golf Course
Located in Deerfield Resort, the Greens at Deerfield is a 6800-yard 18-hole championship golf course designed by Bobby Clampett, a PGA Touring Professional and Television Broadcaster.  The course features a clubhouse, driving range and practice greens — all above your par expectations. 
Built on the shores of beautiful Norris Lake in the Cumberland Mountains of East Tennessee, we are located 25 miles north of Knoxville (just east of I-75) and only 1 1/2 hours from the Great Smoky Mountains, Dollywood and Gatlinburg, Tennessee.
The Green's Grill located inside the clubhouse at The Greens at Deerfield offers breakfast and lunch. Open 7 days Memorial Day Weekend-Labor Day Weekend.  Open Fri, Sat & Sun in April, May, September, and October.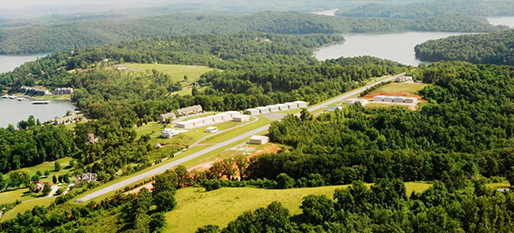 Airstrip
One of our community's most unique features is a private airstrip with a 3,120-foot paved runway.  The airstrip is located on the highest ridge within Deerfield (field elevation of 1,361 feet) and is asphalt paved and striped.  Fly over Jacksboro-Campbell County, Tn. Airport NDB; 204 JAU; Turn 89 Degrees east; 7.5 nautical miles; heading 3-21, unmarked.  From Mc-Gee-Tyson, Tn: VOR HEADING 352 Degrees, 27 Nautical Miles.
Located between the Cumberland Mountains and the foothills of the Great Smoky Mountains on beautiful Norris Lake, Deerfield Resort is the pilot's dream getaway location. Deerfield is a private, 900 acre development featuring a championship, 18-hole golf course, tennis and volleyball courts, miniature golf, marina, boating, fishing, restaurant and a thriving aviation community. The resort is located within 15 minutes flying time to Middlesboro, KY, Gatlinburg, Pigeon Forge and Dollywood.
Recently designated TN44 by the FAA, the coordinates have been set at: N 36° 20′ 48.0 W 84° 00′ 44.0 Magnetic Variation: 4.4°W., features a paved 3,120 foot strip and is home to a well established aviation community. The private strip is available to all home owners and resort guests. Golfers can enjoy flying in and finding a cart waiting when they arrive. Many of the resident pilots own their own hangers. Contact Deerfield Resort for an information sheet and authorization to use the airfield.
| | | | | | | | | | | | | |
| --- | --- | --- | --- | --- | --- | --- | --- | --- | --- | --- | --- | --- |
| | JAN | FEB | MAR | APR | MAY | JUN | JUL | AUG | SEP | OCT | NOV | DEC |
| HIGH | 50 | 53 | 60 | 70 | 80 | 87 | 90 | 89 | 84 | 73 | 59 | 50 |
| LOW | 32 | 32 | 38 | 48 | 56 | 65 | 68 | 67 | 61 | 49 | 37 | 32 |
| WATER | 44 | 48 | 56 | 63 | 70 | 80 | 81 | 86 | 80 | 72 | 51 | 40 |